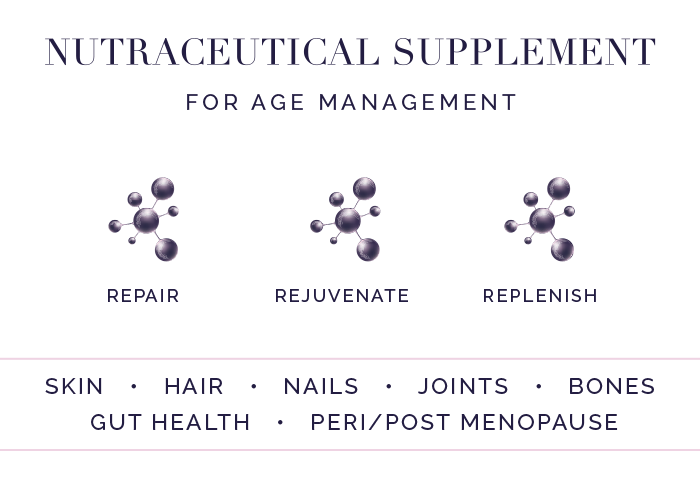 Totally Derma® is a high strength, powdered nutraceutical collagen drink supplement containing collagen amino acid peptides, hyaluronic acid and high levels of key antioxidants, anti-inflammatories and minerals for collagen, elastin and hyaluronic acid production and repair.
Totally Derma® works from the inside, optimising not only the skin, but the entire body and its systems at the cellular level.
Drinking Totally Derma® daily contributes to skin firmness, elasticity and hydration, longer, stronger hair and nails, more flexible joints, stronger bones, improved gut health and is a key supplement for peri and post-menopausal women.
Totally Derma® represents a new era in skincare, health and well-being, by tackling the root causes of ageing and delivers a holistic approach to AGE MANAGEMENT.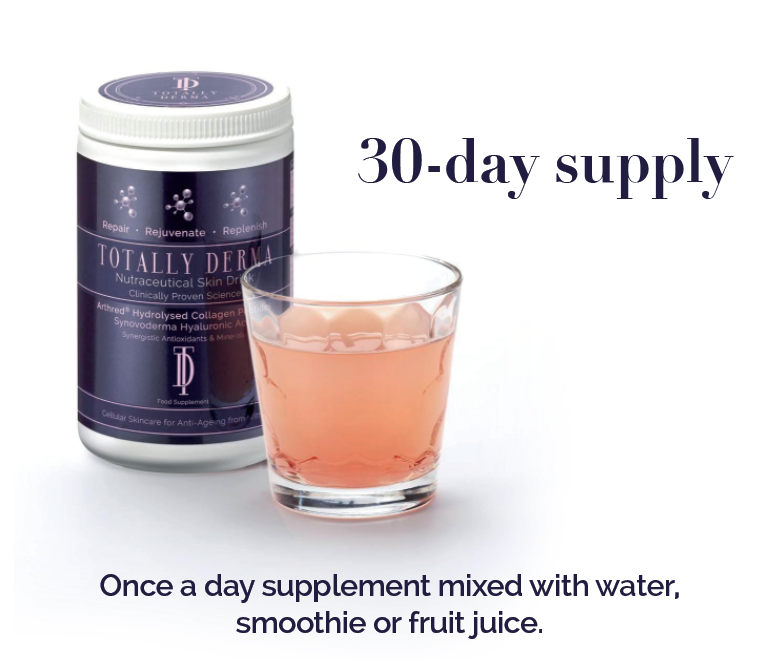 Very pleasant, with a hint of vanilla
Does not need to be dissolved in a solution to be 95% absorbed
A single dose of Totally Derma® contains the equivalent of 26 capsule alternatives
Highest quality and purity available, free of all common allergens and does not contain preservatives, diluents or artificial additives
We recommend drinking Totally Derma® a minimum of 90 days. However, results will continue to improve with longer term usage
*Not suitable for Vegetarians as contains hydrolysed collagen derived from a bovine source.
90 DAY CLINIC STUDY DATA*
100%
SMOOTHER AND MORE HYDRATED SKIN
75%
IMPROVEMENT IN WRINKLES
100%
HAIR AND NAIL IMPROVEMENT
85%
MY JOINTS FEEL BETTER
100%
CUSTOMER SATISFACTION
CLINICALLY PROVEN THERAPEUTIC DOSAGE
Totally Derma® boasts a potent combination of bio-absorbable Type I, Type II and Type III collagen, hyaluronic acid and other scientifically proven antioxidants, anti-inflammatories and minerals vital for collagen production and skin health.
Contains up to 200% more collagen and at least 300% more hyaluronic acid than its respective competitors, making it the most potent nutraceutical skin supplement currently available.
High strength formulation increased with Vitamin C, Green Tea Extract, Grapeseed Extract, Alpha Lipoic Acid, Zinc, Copper and Manganese.
Enzymatically processed, resulting in its UNIFORM, pharma grade, low molecular size (3 kDa) which allows for a scientifically-proven 95% absorption rate.
Collagen and HA work together to stimulate each other's production through a positive feedback mechanism: the more collagen that is present, the more HA is produced.
Stand-alone nutritional skin supplement which may also improve topical medical aesthetic treatments i.e. peels, micro-needling, laser resurfacing and non-surgical facelifts.
Two-pronged approach to promoting collagen synthesis and anti-ageing of the skin, by tackling skin rejuvenation both internally and externally.
Very gentle and well tolerated in the gut, therefore it can also be consumed by those with a compromised digestive system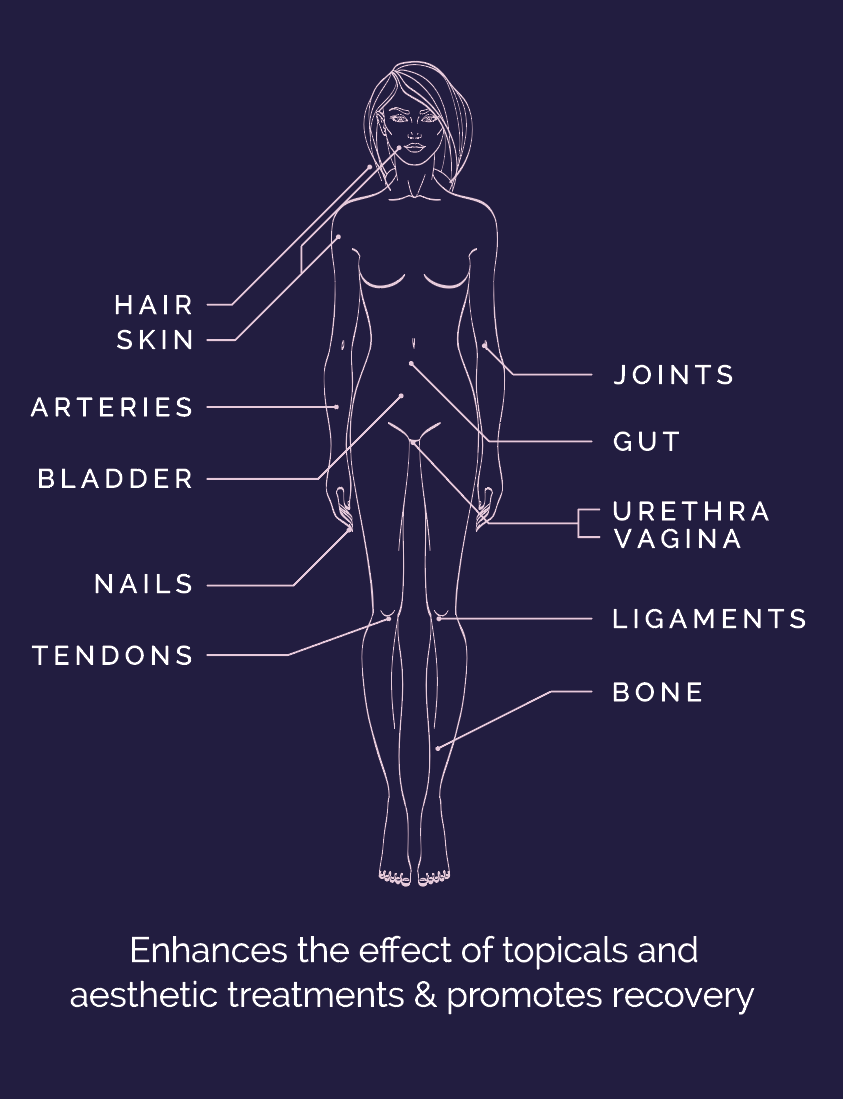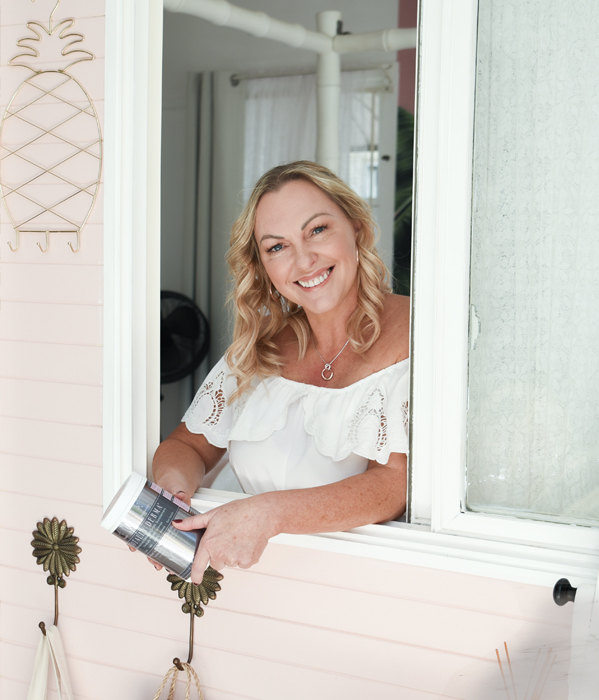 STIMULATES COLLAGEN & HYALURONIC ACID PRODUCTION ALL OVER THE BODY
The collagen, hyaluronic acid plus other synergistic co-factors including Vitamin C, Green Tea Extract, Grapeseed Extract, Alpha Lipoic Acid, Zinc, Copper and Manganese are distributed via the blood vessels into the deeper layer of the dermis, where they stimulate fibroblast cells to produce more collagen and hyaluronic acid in the dermis.
Totally Derma® is also shown to deliver visible improvements in overall skin, hair, nails, joints, bones, gut health and gynaecological menopausal dryness.