TOTALLY DERMA® – THE DIFFERENCE
Totally Derma contains THERAPEUTIC doses of each ingredient.
Totally Derma contains a complete spectrum of collagens (Type I, II & III).
Totally Derma contains the therapeutic dosage of 10,000 mg. Arthred® bovine hydrolysed collagen. Bovine collagen biochemically resembles Human Collagen (marine collagen doesn't). Therefore, the body recognises it and utilises it internally.
Totally Derma Skin Drink contains 200% and 40% more collagen than some other skin drinks (*in the form of 10,000 mg. of therapeutic dosage Arthred hydrolysed animal sourced collagen).
Totally Derma contains the therapeutic dosage of 210 mg. of patented Synovoderma Hyaluronic Acid. Other Brands have NO Hyaluronic Acid or just a trace.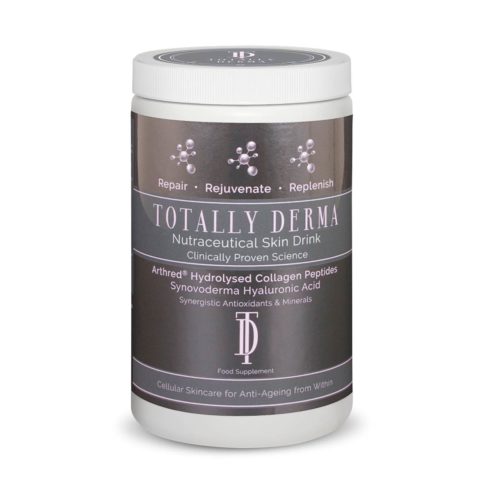 Hyaluronic Acid is shown to have a durable effect to retain moisture in the skin from inside the body.(10) In a double-blind, 4-week study, individuals who added hyaluronic acid to their diet showed significant reductions in skin dryness, wrinkles, and improvements in skin moisture and fullness.
(Aesthetic Dermatology Vol.12 :109~120, 2002)
Hyaluronic Acid also stimulates fibroblast (the cells responsible for producing collagen) proliferation within the collagen matrix.  Moreover, Hyaluronic Acid stimulates collagen growth as well as directly consuming hydrolysed collagen.  Therefore, Totally Derma® does double-time (in comparison to other brands) with regard to stimulating collagen.
Totally Derma contains therapeutic dosages of Antioxidants and Minerals to support, enhance and promote Collagen and Hyaluronic Acid in the Skin: Vitamin C, Grapeseed Extract, Green Tea Extract, Alpha Lipoic Acid, Zinc, Copper, Manganese.
Arthred® and Hyaluronic Acid in Totally Derma® are absorbed 95% regardless of whether they are mixed in liquid or not – they can be consumed straight as powder with the same absorption and efficacy.
A daily dose of Totally Derma®, (per 100g.) has the highest content of the amino acids proline (1,535mg) and hydroxyproline (1,090mg), compared to marine collagen (these are the essential building blocks for collagen synthesis). Other prominent amino acids in Totally Derma® are glycine (2,260mg), alanine (890mg), arginine (815mg), glutamic acid (1,045mg), lysine (335mg), and hydroxylysine (100mg).